October 10, 2011 NEWSLETTER
To access a past newsletter, click on a link below:
Aug. 3, 2011 | May 9, 2011 | March 29, 2011 | Feb. 18, 2011 | Feb. 5, 2011
---

---
Wangari's torch has been passed on, threefold!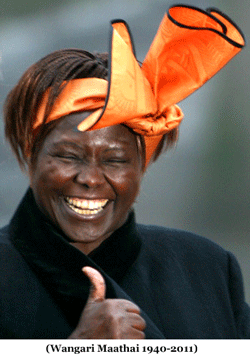 The Nobel Peace Prize for 2011 is to be divided in three equal parts between Ellen Johnson Sirleaf, Leymah Gbowee and Tawakkul Karman. Ellen Johnson Sirleaf is Africa's first democratically elected female president. Leymah Gbowee mobilized and organized women across ethnic and religious dividing lines to bring an end to the long war in Liberia, and to ensure women's participation in elections. Both before and during the "Arab spring", Tawakkul Karman has played a leading part in the struggle for women's rights and for democracy and peace in Yemen.
Deep Loss for Mother Earth: Wangari Maathai has Fallen. This was the subject line on the email from Donna Goodman (Earth Child Institute). In it, she wrote: "Over our meal that day she looked me in the eye and shared with me her story of imprisonment and keeping the fight for the trees and the women alive, her words were so important and vibrant when she told me that "people like us must never give up."
Donna's words reminded me of a panel on which Wangari was a participant. It was like listening to a circle of friends/veterans of past UN women's conferences, together for the first time since she had won the Nobel Peace award. When they congratulated her, she said that it was "for all of us". They told how they marched arm in arm in the streets in Mexico City at the first WCW, and subsequent events at the others, reminiscing about gains made since. Later in an informal group, a woman who had been Bella Abzug's driver for years — told the story of how when Wangari was thrown into jail, she called Bella — they had become friends at the UN women's conferences. I saw how the women's conferences brought women together, forming bonds of friendship and activism, sisterhood - -heart connections. It is at the level of love of what matters and love of each other, that women together can change the world, often through helping each other out at a crucial moment. Patricia Smith Melton's (PeaceXPeace) heartfelt response: "oh, such a moment of poignancy, and gratefulness, and sadness…. "people like us must never give up!"
Update on 5WCW Advocacy
Current status: We've had meetings with ambassadors re: sponsorship of a General Assembly for a 5WCW resolution, which followed the groundwork of making the connections. Waiting for positive news.
One of the core circle of advocates, Ambassador Anwarul Chowdhury, (former UN Under Secretary General and former president of the Security Council, former ambassador from Bangladesh), was appointed Senior Special Advisor to the President of the UN General Assembly. He is a long-time advocate for women. During his presidency of the Security Council in 2000, he took the initiative to make the conceptual and political breakthrough that made it possible for the Security Council to adopt Resolution 1325 on Women, Peace, and Security. His new appointment is good news!
Meanwhile, theSan Francisco Department on the Status of Women brought 5WCW to the attention of delegates to the Asian-Pacific Economic Women's Summit as they lobbied to be the Host City in 2015.

Sponsor websites with * have specific webpage posted. Others TBA.
Seattle February 15, East-West Bookstore: talk and booksigning. http://www.eastwestbookshop.com
Seattle February 16 -17 , Women of Wisdom Conference: keynote and workshop. http://www.womenofwisdom.org *
New York City February 27 – March 9, UN Commission on the Status of Women: (events TBA). http://www.ngocsw.org
San Luis Obispo, CA March 10, Circle of Grace conference: keynote. http://www.spiritualcircle.org/blog
San Francisco March 30-31, California Institute for Integral Studies (CIIS): lecture and workshop http://www.ciis.edu
Ojai, CA April 13-14, Meditation Mount: talk and workshop http:/meditationmount.org
Santa Barbara, CA April 15, La Casa de Maria Conversation for the Common Good: talk. http://lacasademaria.org
Chapel Hill, NC April 27 –28, C.G.Jung Society of the Triangle Raleigh: lecture and workshop. http://www.jungnc.org/program-pages/2012-programs/bolen.html *
Santa Fe May 4 –5, C.G. Jung of Santa Fe: lecture and workshop. http://www.santafejung.org/05040512.html *
Stockbridge, MA Kripalu Center July 27 – 29, residential workshop; http://www.kripalu.org
Helena, MT August 25 – September 1, Feathered Ranch: residential workshop. http://featheredpipe.com/women's-wisdom-pregnant-darkness *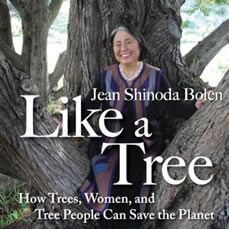 An audio version of Like a Tree is available from the links listed below. Read by Jean—with the passion, energy and poetic sensibility that comes through as she reads her own words.
Purchase from Amazon/Audible
Purchase from Sounds True
Hardcover available from Amazon.com. For every hardcover book sold, a tree will be planted by school children in Togo, West Africa.
Miscellaneous:
Lisa Levart. Goddess on Earth—a gorgeous, coffee-table book, color photographs, descriptions fit image and goddess. Jean wrote the Introduction and introduced to many goddesses that she didn't know. http://goddessonearth.com/purchase
Emmanuel Itier: "FEMME: Women Healing the World" (documentary, Summer 2012) Watch the Trailer on YouTube ((Jean speaking at the United Nations, panel on Ecology and Spirituality panel, March 2010)
Get Your Woman On: Embracing Beauty, Grace & The Power of Women: Inspirations from 39 Impassioned Visionaries (anthology presented by Kimber Lim). Jean's contribution, "Transforming Ourselves, Changing the World". Available at Amazon.com.
With love and hope,

Jean Shinoda Bolen, MD


for a U.N. Sponsored 5th World Conference on Women
For 5WCW information and documents: http://5wcw.org